Theresa May has appealed to Scots to "strengthen my hand as I fight to strengthen the Union" by voting Conservative in the General Election.
The Prime Minister made her pitch at the launch of the Scottish Tory manifesto in Edinburgh.
Scottish party leader Ruth Davidson used the same event to call on voters to use the June 8 poll to "bring the SNP down to size".
.@theresa_may tells Scot Tory manifesto launch only her party has the "strength and credibility" to stand up to SNP pic.twitter.com/2Xs3jdR3GV

— Laura Paterson (@LauraPatersonPA) May 19, 2017
Mrs May told supporters Scotland "can play a bigger role in our shared national life" as she promised to help the country "grow and flourish".
However the SNP said the Prime Minister would prioritise a "hard Brexit" over protecting Scottish jobs.
While the 2015 election saw voters elect just one Scottish Conservative MP, the party is now targeting several seats north of the border, having made significant progress in May's local elections.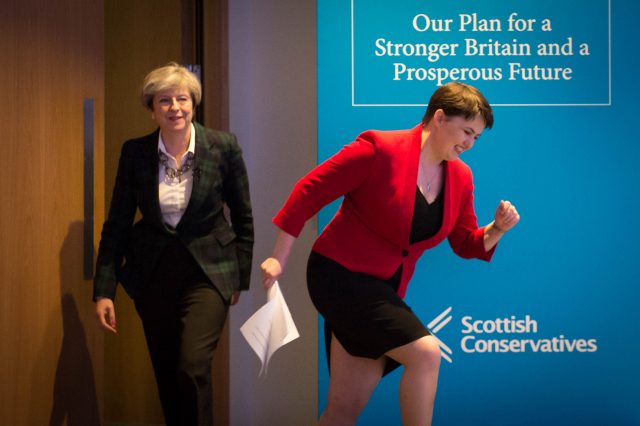 Theresa May and Ruth Davidson during the Scottish Conservatives manifesto launch (PA)
Mrs May said: "A General Election which is defined by one question, and one question only: who can lead us through Brexit and get a deal that works for the whole United Kingdom? Who can lead our country, and strengthen our Union, in the years ahead?
"Every vote for me and my team will strengthen my hand in the negotiations to come.
"Every vote will help me get a better deal for the whole United Kingdom.
"And every vote from Scotland will strengthen my hand when I stand up for our United Kingdom here at home."
Fighting for a stronger, fairer, more prosperous United Kingdom.#GE2017 pic.twitter.com/BbudWoJnDH

— ScotConservatives (@ScotTories) May 19, 2017
Scots voted by a margin of 62% to 38% to remain in the European Union last June, while the UK as a whole opted to leave – a result which led Scotland's First Minister Nicola Sturgeon to call for a second vote on independence.
Mrs May said only her party "has the strength and credibility to stand up to the nationalists".
The Tory manifesto asserts that another ballot cannot take place "until the Brexit process has played out" and "unless there is public consent for it to happen".
Mrs May said: "I have been clear that now is not the time for another independence referendum.
"This is a time to pull together, not apart. As long as I am Prime Minister, I will never stand by and let our Union drift apart."
.@RuthDavidsonMSP

"We won't roll over when they demand a rerun."#GE2017 pic.twitter.com/yBxl7blUIW

— ScotConservatives (@ScotTories) May 19, 2017
Pitching the Tories as a party of the "centre ground", Ms Davidson appealed for Labour voters to back her party to defeat the SNP.
With Labour forced to suspend all of its councillors on Aberdeen City Council after they formed a coalition with the Tories against party orders, she said: "This week the Scottish Labour Party – already weakened – has entered a state of civil war."
She told Labour supporters: "The truth is, your party has left you, not the other way around.
You can read our manifesto for a stronger Scotland, here:https://t.co/UwJ56tBRpO pic.twitter.com/ebdsduqHJ9

— ScotConservatives (@ScotTories) May 19, 2017
"It may well find its way back. But you know – and I know – it won't be at this election.
"We are committed to workers' rights, boosting low pay, getting a good deal for our fishermen and improving the education of our young people so cruelly let down by this Scottish Government.
"So, together, with your help, we can lead the fightback against the SNP and stop Nicola Sturgeon trying to pull our country apart."