A strong new earthquake shook Mexico on Saturday, toppling already damaged homes and causing new alarm in a country reeling from two even more powerful quakes this month that together have killed nearly 400 people.
The US Geological Survey said the new magnitude 6.1 quake was centred about 11 miles south-southeast of Matias Romero in the state of Oaxaca, which was the region most battered by a magnitude 8.1 quake on September 7.
It was among thousands of aftershocks recorded in the wake of that earlier quake, which was the most powerful to hit Mexico in 32 years and killed at least 90 people.
Prelim M6.2 earthquake Oaxaca, Mexico Sep-23 12:53 UTC, updates https://t.co/ZSfVasxdNS, 56 #sismo tweets/min

— USGSted (@USGSted) September 23, 2017
There was some damage in Oaxaca but no immediate reports of new deaths.
The Federal Police agency posted images online showing a collapsed bridge that it said had already been closed due to damage after the September 7 quake.
Por tierra y aire, @PoliciaFedMx contribuye a verificar posibles daños. Puente en #Ixtaltepec #Oaxaca. Consulta siempre fuentes oficiales pic.twitter.com/RCYJn8UbxJ

— Policía Federal Mx (@PoliciaFedMx) September 23, 2017
Bettina Cruz, a resident of Juchitan, Oaxaca, said by phone with her voice still shaking that the new quake felt "horrible".
"Homes that were still standing just fell down," Cruz said. "It's hard. We are all in the streets."
Ms Cruz belongs to a social collective and said that when the shaking began, she was in a truck carrying supplies to victims of the earlier quake.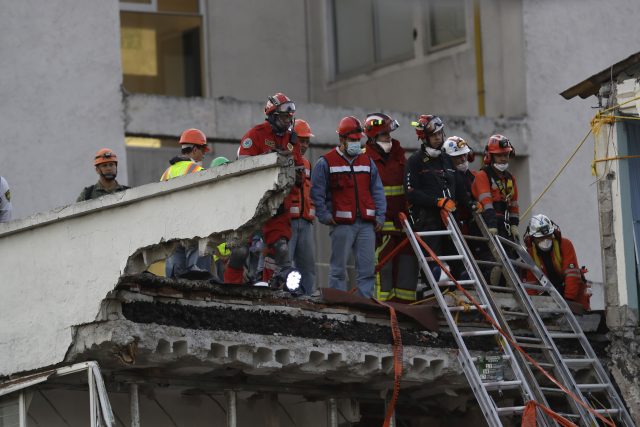 Rescuers have been working round the clock to save those trapped in the rubble (Rebecca Blackwell/AP)
Nataniel Hernandez said by phone from Tonala, in the southern state of Chiapas, which was also hit hard by the earlier quake, that it was one of the strongest aftershocks he has felt.
"Since September 7 it has not stopped shaking," Mr Hernandez.
US Geological Survey geophysicist Paul Caruso said the new quake was an aftershock of the 8.1 one, and after a jolt of that size even buildings left standing could be more vulnerable.
"So a smaller earthquake can cause the damaged buildings to fail," Mr Caruso said.
So proud of 4-legged @USAID #mexicoearthquake team members Tanker (left) + Clancy (right) working w/ @LACo_FD handlers 2 find survivors pic.twitter.com/COnnsLxglF

— USAID/OFDA (@theOFDA) September 22, 2017
"At the moment the greatest damage has been to the Ixtaltepec bridge, which should be rebuilt, and structures with previous damage that collapsed," President Enrique Pena Nieto tweeted.
He said government workers were fanning out in Juchitan to provide help to anyone who needed it.
Jaime Hernandez, director of the Federal Electrical Commission, said the quake knocked out power to 327,000 homes and businesses in Oaxaca but service had been restored to 72% of customers within a few hours.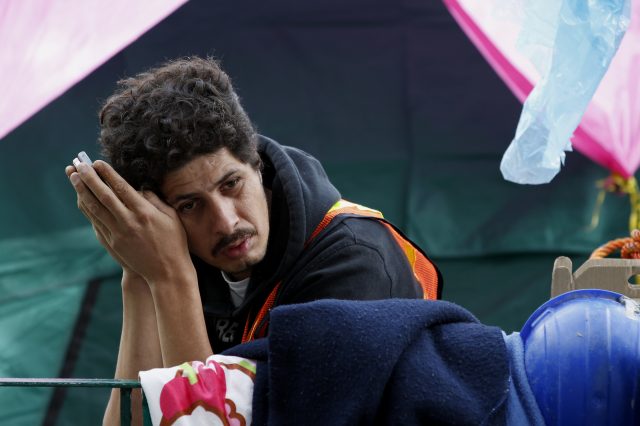 Pablo Vega Rodríguez listens to his mobile as he waits for news on his cousin Paulino Estrada in Mexico City (Rebecca Blackwell/AP)
Buildings swayed in Mexico City, where nerves are still raw from Tuesday's magnitude 7.1 quake that has killed at least 305 across the region.
Many residents and visitors fled homes, hotels and businesses, some in tears.
At the Xoco General Hospital, which is treating the largest number of quake victims, workers ordered visitors to evacuate when seismic alarms began to blare.
Mayor Miguel Angel Mancera said there were no reports of significant new damage in the capital, and rescue efforts related to Tuesday's quake were continuing. He reported that two people died of apparent heart attacks during the new quake.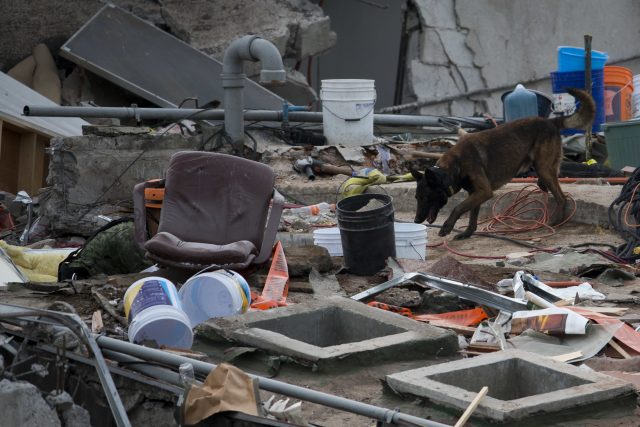 A rescue dog works on the site of a felled office building in the Roma Norte neighborhood in Mexico City (Moises Castillo/AP)
At the site of an office building that collapsed Tuesday and where an around-the-clock search for survivors was still ongoing, rescuers briefly evacuated from atop the pile of rubble after the morning quake before returning to work.
As rescue operations stretched into day five, residents throughout the capital have held out hope that dozens still missing might be found alive.
More than half the dead, 167, perished in the capital, while another 73 died in the state of Morelos, 45 in Puebla, 13 in Mexico State, six in Guerrero and one in Oaxaca.